I just did
a Google image search for "Benjamin Sisko with facial hair."
The results are not stunning. There's a lot of Sisko scowling with facial hair, and at least one featuring facial hair and crazy eyes, but all the nice shots are of shorn Sisko. You'll just have to trust me that, on video, the facial hair is an improvement.
And what's the first thing he does with his facial hair? He builds a sailboat.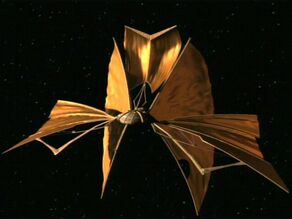 or a space moth
When I told my dad, a Star Trek fan from ToS through the present, that I was watching DS9 from beginning to end, he asked me, "Does Sisko have the girlfriend yet?" At the time he didn't, but that's another milestone we reach in the latter part of season three: Kasidy Yates. She makes precisely one appearance, so I guess she becomes a bigger deal later.
A more significant milestone to me is the first utterance of the phrase, "No changeling has has ever harmed another," which occurs in "
Heart of Stone
." When I heard that, I was like, now we're getting somewhere.
I just finished watching the season three finale, which was an edge-of-your-seat thrill ride. An evil changeling is loose on the Defiant and he's better at impersonating humanoids than Odo, down to the MOLECULAR EFFING LEVEL. The tricorders are none the wiser. So you can imagine this is terrifying and nobody can trust anybody, and YES it of course made me think of the
Battlestar Galactica
reboot. This is the benefit of watching these twenty years later. Instead of saying, "Oh that's been done before," I'm saying, "Oh that was done again, later!"
Just three more things before I go:
Andrea Martin plays a Ferengi in the third season. And of course she rocks it.
I love how every once in a while the entire cast goes off on an adventure. Who's watching the station?
This quote from the season finale, in which O'Brien comes up with a way to regain control of the ship.
Computer: Auto destruct in seven minutes.
Sisko: Just tell me how long it will take.
O'Brien: Well I guess it'll have to be less than seven minutes, won't it?
Next stop, season four!